DEA temporarily bans synthetic opioid 'pink' after 46 deaths
Dec 13 2016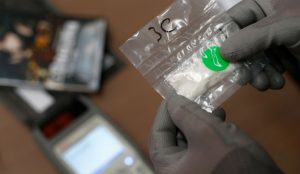 The U.S. Drug Enforcement Administration (DEA) said it had temporarily categorized a synthetic opioid nicknamed "pink" as a dangerous drug, after receiving at least 46 reports of deaths associated with its use.
There is a huge epidemic in the U.S. with regards to the abuse of opioids – a class of drugs that includes heroin and prescription painkillers.
The Centers for Disease Control and Prevention estimates that 78 Americans die every day from opioid overdose.
"Pink", known to chemists as U-47700, comes from a strain of deadly synthetic opioids that are far more potent than heroin, and is usually imported to the United States mainly from China.  This drug gets its name from the pink-purple hue that comes from the way it is cut or processed.
The DEA said it had temporarily categorized U-47700 as a "Schedule 1" substance, effective Nov. 14, classifying it as a dangerous addictive drug with no medicinal use, placing it on par with heroin, cannabis and LSD.
https://s3.amazonaws.com/public-inspection.federalregister.gov/2016-27357.pdf
The classification of "Pink" as a schedule I will last for two years, with a possibility of a longer extension if the DEA requires more data to determine whether it should be permanently scheduled.
Reports indicate that of the 46 fatalities, 31 occurred in New York and 10 in North Carolina of cases reporting between Oct. 2015 and Sept. 2016.

For information regarding the effects of drug abuse – Click Here
For  information on a drug free work place – Click Here
For  information on substance abuse programs – Click Here
For information on DOT Drug / Alcohol Testing requirements – Click Here
John Burgos, CPC
Business Development Manager
(800) 219-7161
Health Screening USA Inc